Welcome
Here you will find my teachings and video blogs that give you The Secret to the Law of Attraction so you can create the life you want. I cover a range of happiness topics, from A to Z or - Acceptance to Zen and everything in-between. Please feel free to leave a comment below any of the posts, I love to read your ideas and opinions!
>
General Posts
End of the world thinking is bad for you!
Do you worry about the end of the world? Are you one of the 22% of Americans who believe the world will end in their lifetime? ( Reuters poll May 2012). Did you get yourself ready in your underground bunker on December 20th 2012 only to find the traffic jams were still there on December 21st and oh no, now you have to go out and buy your family Christmas presents after all?
I'm concerned about the mind-set that has such a dim view of humanity that it believes we are all doomed to die!
All around me I know fabulous people with positive and uplifting views on life. People who are connecting with the world and the people in it with love and compassion.  It saddens me that anyone should have given up on humanity and resigned themselves to predictions of gloom and end of the world scenarios.
My radio show guest this week is an eminent scientist and expert on the Mayan calendar who saw December 2012 as signifying a shift in human consciousness, not the end of the world. See the link to that show at the end of this post.
 5 warning signs that you might be an end of the world thinker
Here are some of the warning signs you should watch out for, to avoid finding yourself sucked into the ultimate in negative thinking.
1.   Lack of faith in human nature
Do you think the worst of people? The Law of Attraction states we attract what we are. So, if you expect people to let you down, voila, they let you down!
Look at yourself before judging others. Our view of the world is often colored by our own self-esteem. When you feel badly about yourself it's easy to feel negative about others. If you feel your world is ending then the end of the world for humanity seems much more possible.
Antidote
Go out and see what remarkable things are happening in the world around you. Volunteer for a charity, it helps put your own problems into perspective. Restore your faith in human nature by watching uplifting tales of kindness and heroism and avoid the negative media.  Try turning off the news for a few days!
Take a look at yourself and how you react to the world around you- my Inner Observer post will help with that
2.   You believe in the "Defend What is Mine" philosophy
For me this is the most disturbing part of the doomsday "prepper" idea; that only those with the same beliefs deserve to survive!  This fortress mentality is prevalent in today's world.  I will protect my own because others do not deserve my love and care. Do you really want to be in that selfish group who believe the end of the world signifies a shift into self-serving behaviour and to heck with everybody else?
Antidote
Start looking outside of yourself. Yes, take care of your family and friends, but start cultivating more of a community view of the world. As humans we were meant to connect with each other; therein lies a lot of the most fabulous achievements of the human race that led to electricity, telephone, even the Internet.
3. You need to feel superior!
Doomsday ideas appeal to those who feel put down by the world. If you are ready for the end of the world, somehow you are cleverer, and superior to others.
There are times in our lives when we feel like losers; stuff goes wrong and it can shake your self-confidence. This does not mean the whole world is wrong and that believing in the end of the world is the logical way to feel stronger! You may feel as if you cannot fight the system; that it is stacked against you and being a survivalist will somehow make you better able to win in the end.
Antidote
We all suffer setbacks in our lives. How we deal with those is what defines our future.
Success is not final, failure is not fatal: it is the courage to continue that counts.
― Winston S. Churchill
Feeling better about yourself requires self-acceptance and definable goals. Self-confidence can not be achieved by putting others down. Don't be drawn into an ideology that requires you to dismiss others as not worthy- we are all worthy.
4.   You want to be in control of your life.
It may seem odd that believing in the end of the world gives people control, but it has a certain finality about it when you add a date! In a peculiar way it gives focus to a person's life as they prepare for this apocalypse while others carry on with their lives. The real issue here is that you need focus and a goal; something to aim for to make life more worthwhile.
Mark Koltko-Rivera, a New York-based psychology consultant says that knowing the date of the end of the world
…feeds the very human desire to know the unknown… The human brain is wired to find patterns even among random data in its natural instinct to understand the world.
Antidote
Set goals that give purpose and meaning to your life. Read, "Finding your purpose"  and "Your Unique purpose." for some help with this.  If you feel your life is less than satisfactory than take some time to imagine what you would do if there were no constraints? If you could do anything, what would it be? Wouldn't it be better to live this life fully than contemplate the end of the world?
5.   You think humans are incapable of solving the world's problems because they are just too overwhelming.
Antidote
Beliefs change over time and for many they become clearer as we get older and more experienced. Believing in the power of a higher being to fix all the world's ills may be comforting to some, but others use is it to discredit the human ability to take responsibility for their own actions. We are, to an extent, what we do. Abdicating the responsibility for our own actions can leave us feeling powerless.  See, "Accepting change"
The Mayan calendar predicted a change in December 2012 and obviously was not the end of the world. The world is shifting, but in a good way and we are far more aware of our shared humanity and oneness.
We can make a difference in our own lives and those around us if we open our eyes to the possibility.
Listen to my guest's views on what this shift in the paradigm means to us and do let me know what you think?
http://www.blogtalkradio.com/yourhappinessway/2014/11/21/the-mayan-calendar-the-new-paradigm–carl-calleman-lorane-gordon
Are you struggling with negative thinking? Do you need some help to find your positive purpose? Try a Free 25 minute coaching call with me, Lorane, to help put you back on the path to happiness.  Go to Coaching with Lorane
For FREE gifts and my weekly news, put your email in the box on the right up above this post.
Let me know what your thoughts are on Doomsday thinking? I always respond to comments!                                    
Guest Posts
Hi there!
Welcome to my special page for guest posts on happiness, law of attraction, present moment awareness, mindfulness, self development and self discovery.
When I first started Your Happiness Way it was such a pleasure to see how many of you were interacting with me on Facebook, on Twitter and on my blog. The site and my teachings have expanded so much since then that it seemed a logical next step to invite members of my community to add their voice!
So, this page showcases thought provoking articles from a variety of people in a range of fields. Some stories are personal, some are posts that share expertise as well as life experiences.
I am really excited to be bringing you these posts as they add to the inspiration and knowledge in the fields of happiness and the law of attraction- do comment and let us know what you think?
If you feel that you have a fresh perspective in this field, or simply an amazing story to share then go to my Write For Us page and download the guest post application form.
Are you having a bad day?
Having a bad day? We have all had one of those days where everything seems to go wrong. You crawl out of bed and for no particular reason you're in a sour mood. Right off the bat your morning is beginning with negative energy. As the day continues you end up late for work, spill your coffee, and forget your wallet. You're just having one of those days. There are bad days, really bad days, and even worse days. These days happen, and let's face it, at times are hard to avoid.
When having a bad day becomes having a bad life
Recently I was at a point in my life where I let these days develop into a life style. I forgot everything I was taught by my parents about appreciating life, and being grateful for what I have. When dealing with various hardships, I found myself surrounded by a group of people that encouraged me to feel sorry for myself. I was unable to cope, and fell into a dangerous rut of self-pity; every day I was having a bad day.
When I reached rock bottom and decided it was time for change, I learned a positive attitude helped me cope more easily with the daily matters of life. It took me years of growing and self-reflecting to realize this. To realize I had robbed myself of happiness because I allowed myself to become overwhelmed.
Learning to channel positive energy into my daily routine has kept me optimistic, grateful, and has wholeheartedly changed my life.
If you are having a bad day, try these steps
These are the steps I took to get into the mindset I have today. Having a bad day does not need to turn into a negative life if you follow these steps.
1. Start with self-care
Self-care is controlled by you. It's deliberate and self-initiated. It is the self-care of your physical, mental and emotional health, and is very often overlooked. We're our own worst critic, and sometimes our biggest enemy.  Be conscious of the way you speak to yourself. Meditation is a wonderful way to connect with your soul and cleanse your mind. Be aware of your inner critic when you are having a bad day- are you blaming yourself for all that is going wrong?
2. Wake Up Grateful
Wake up in the morning, grateful. Sure, things may not be the best. But you're alive, and you're here, and whether you believe it or not, you're important and valued. That's right. If no one else values you, I value you. I believe every soul on earth makes a contribution to the world we live in – let's make yours a positive contribution, and a great experience for not only yourself, but those around you
3. Don't only feel grateful. BE grateful.
There is always something to be grateful for.  When you begin to make a conscious effort to recognize the goodness in your life, you will find more and more to be grateful for. A great way to get started is to keep a gratitude journal. Every night, write down 5 things you were grateful for in your day and describe how it affected you. So, when I feel like I'm having a bad day I think of all those little things that make me smile and even re-read my gratitude journal to remind myself. See Gratitude
Last night my 5 month old puppy tapped my knee with hopes of cuddling into my lap. He propped his little feet up on my shoulders and licked me all over my face. As much as I tried to resist those sloppy kisses, I'm grateful to be loved.
4. Remove negativity
Release the energy of yesterday. You have the power to grow above your past, to make yourself stronger and to make yourself whole. If you find yourself in an environment that challenges your happiness, try to make improvements. You are accountable for your own happiness. It is unhealthy to hold onto past hurts; that is how you go from having a bad day to a bad week to months and years of looking back with negativity.
5. Compliment yourself.
We are our biggest critic – but, I think you're awesome, and so do your friends, family, and loved ones. Tell yourself you're awesome. How often do you pat yourself on the back? Do this every day.
"

When you cannot get a compliment any other way pay yourself one

." – Mark Twain
6. Don't sweat the small things.
Although there may be other larger hardships going on in your life, focus your energy on improving the small things. It can be so easy to be thrown off mood when you're stressed, overwhelmed, over worked, under slept – the list can go on and on. Turn those negatives into a positive. Appreciate the challenges. You are not defined by what happens in your life. Sometimes when you are having a bad day, it can be the small stuff that catches you out, tips you over into negativity- so tackle it.
Where I am today- not having a bad day!
Self-care and gratitude have helped me identify my life's purpose. I've learned my purpose is to love, to be kind and to learn. Not to be happy, but to find it within myself to be whole. I want to share this with the world with hopes to inspire others to overcome their hardships, and appreciate their lives and themselves.
Being your whole self will bring you happiness. Without being your whole self, without feeling fulfilled, without caring for yourself – you won't be truly happy, and this all starts with positive thinking.
Let me know in the comments below- What are you grateful for?
See more of Annie's thoughts and advice at http://anneliesemariee.wordpress.com/
Connect with Annie on Facebook https://www.facebook.com/aszczygielski
Christmas in Russia- My Perspective
It's New Year's Eve… I am so excited to wake up early in the morning and run to the Christmas tree to see what Grandfather Frost (Russian Santa Claus) brought for my sister and me. I remember one year specifically we were so excited because we each got 2 mandarin oranges, a handful of chocolate candies and 3 apples. This was the highlight of the holidays.
If I am having a bad day, I think about my humble beginnings, how little I had growing up in Russia and how thankful I am today for the life that I have.
Growing up during the Socialism era in Russia meant scarcity of everything. Of course when this is all you know, you appreciate every little thing. I remember we would go to the store for food, and a lot of times the shelves would be empty. In school, we were taught how lucky we were to live in the greatest and largest country in the world. We were trained to respect and honor the leadership and to appreciate all that we have.
I learned to be resourceful from an early age. Since there was no luxury of buying groceries in the stores, every family had a summer house where they would grow all the vegetables to provide for the family. I spent every summer with my grandparents growing vegetables, some berries, and fruit and raising chickens. I had the best childhood. I learned how to fish, how to sew, how to cook, how to make the best of the resources that we had.
My dad was the entrepreneur in the family. I saw him constantly challenge the status quo. He ventured out into the scary world of business ownership. It is scary to begin with, but in Russia there are additional obstacles to deal with like the mafia. My mom supported my dad by doing all his paperwork and being the best mom for my sister and me. I watched her take care of the household. She trained us to respect what we had, to work with a spirit of excellence, to take care of the house and the people around us.
In Russia, education is taken very seriously. I remember we would have 14-16 subjects to study in our higher grades. There was no such thing as a choice. There was only a must. I was a part of the class with concentration in physics and math. My parents also enrolled me into a music school at the age of 6. I graduated with honors at the age of 15.
I remember when the borders were opened back in 1995. Now there were opportunities to see other parts of the world. My dad asked me if I wanted to go to the United States to study. I for sure thought he was kidding. I thought to myself, if I go to America, I would love to go to Florida, California or New York. From what we saw on TV, America was the land of opportunity. Everything was possible.
My Life changes forever and my perspective too!
I remember getting a call from the company that organized the Student-Exchange Program, to tell me that a family from Indiana picked me. A few months later, I landed in Indianapolis, IN and my life-changing journey began. I was so blessed with my host family. I consider them my American family today.
Now that I am a mom, I have a new appreciation for my parent's bravery. They knew that moving to America would open up unlimited opportunities for me and they had to sacrifice their quality of life in order to make it happen. I have no idea how my mom did it. There was no internet back then and cost to call was crazy high. I would write a letter and a month later, my mom would get it. It sure would have been much easier if we had Skype and Facebook to stay in touch.
I will never forget the first time I went into the grocery store. I could not believe my eyes when I saw the abundance of fruits and vegetables.
The best part was I could buy it. I could not stop eating! The things that were a luxury to me in Russia like bananas and mandarin oranges were no big deal here in the US. It still shocks me that my kids say no to bananas. If I was asked, "would you like a banana in Russia?" the answer would always be YES!!!
I hardly remember my first 4 months as my English was very poor. I could put sentences together but I didn't have the vocabulary. My host family had to put me in a private school since the public school refused to accept me as a senior at the age of 16. I remember we went to meet the principal who gave me a Calculus book and a Physics book to see where my education was. I already knew 2/3 of the material to be covered at the senior level. I graduated from the American High school, flew back home, took 13 exams to graduate from Russian high school as well.
My dad brought me back to the States a few months later to help me settle in and ready for college. I remember just like yesterday I could not stop crying because he had to go back. It was so tough. I just had to do what I had to do. My mission was to graduate in a hurry and since my parents were paying for my education there was no time to waste. After 3 years, I graduated with an International Business Degree and at the age of 19 I was ready to take on the business world.
Giving back to my family.
I worked really hard for 10 years in order to afford the opportunity to move my family here. There were times when I wanted to give up. Things get tough, right? I kept on going. I just could not give up on my family. There is no better feeling than to give back to those who are the closest to you.
A lot of times bad things happen in our lives and I find that it all is a matter of perspective. It's not what happens to us that determines the direction of our lives. It's how we translate what happens. When I was going through the hard times, I would focus my mind on what I was thankful for and remind myself to look for solutions. Focus on what you are grateful for. Where your focus goes, your energy goes.
To find out more about Nadya's Stop Chasing, Start Attracting approach to Business Branding, visit  www.NadyaMelton.com
Connect with Nadya on Facebook   www.Facebook.com/MyLifestyleAcademy
When the pain is so great can you forgive and forget?
Forgive and Forget you are told. Forgiveness. A word so mainstream today that you would think there is no other way to turn the page on pain, anger and resentment.
I imagine one of the reasons people cling to their hates so stubbornly is because they sense, once hate is gone, they will be forced to deal with pain.
James Baldwin
Ten years ago, on June 19, my life came crashing down. Marriage was no longer the fairy tale story I imagined as a young girl; it had already turned into a nightmare several years back, with little to no hope for a brighter and happier future. That Saturday morning, I finally called 9-1-1. It may have been the end of violence behind closed doors but it was also the beginning of a different type of hell.
Left alone with two young children overnight, with more debt than I could handle given my junior office manager's salary, added to the crushing judgment I endured from others who did not understand why I would "mistreat" my husband that way, I felt the extreme heaviness of the burden I seemed to have imposed upon myself and I certainly was in no mood to forgive and forget!
I was free at last, yet at the same time I never felt so bound by the chains of pain and confusion, of anger and resentment, of loss and despair. I was supposedly the victim, yet I felt like I was the one being punished. The word of the moment was SURVIVAL, a far cry from forgiveness.
Today, it hurts me to see others going through the same ordeal. I know how it feels. How can you forgive and forget when you have nothing but emptiness within you?
Too angry to forgive and forget
It wasn't fair. I didn't deserve this turn of events. I had done nothing wrong all my life and here I was, not only had my marriage been destroyed, so had I. I felt completely depleted of all energy. The only emotions I carried were anger and resentment. I was angry with everyone and everything yet at the same time, I couldn't do anything about it. I banned the word forgiveness from my vocabulary. It just didn't make sense to me.
Since I couldn't forgive and forget, I couldn't exactly turn the page according to the experts. What were my other options now? I didn't know for sure, but since I wasn't dead yet, I would just have to keep moving forward, somehow.
Hindsight is always 20/20. I know now that I had to start somewhere, and that somewhere was within ME. I had to take care of that emptiness first. As the mother of two young children, my instinct was to take care of them, shoving my needs to the side, however it soon became clear to me that in order to be a better mom, I had to start by feeling better about myself.
It all started with making sure my children and I were comfortable physically. Moving into a nice apartment, getting a promotion and a raise at work, purchasing a car to get around, eating well and exercising, these were all part of meeting our basic needs. I wasn't strong enough to deal with the emotions yet, but that was fine. Pain and anger would occasionally surface as I worked through divorce negotiations; I would explode crying or cursing, but nothing else. I was not ready yet. I could not forgive and forget I was too busy surviving.
As I filled my life with "things", I thought I would also be filling the void I always felt. My heart was still this black hole sucking my energy and leaving me feeling so alone. My kids and I looked happy on the outside, but we were crumbling beneath. No material belonging, no week long Caribbean vacation, no new car, new home or new puppy could fill our void.
Identify the pain and move past forgive and forget
It takes digging into the depths of our being to realize that the true culprit for this emptiness is PAIN.
It took me a decade to realize this. The anger and the resentment closer to the surface are simply a vacuum trying, but never succeeding, to fill that void. So what is this pain?
If you think back to childhood, of your expectations for life, of your image of what happiness looked like from where you stood back then, and when you take a good look at your experience since then to compare the two, you will notice a discrepancy. This is the source of your pain.
Life was not supposed to be this way. You wanted so much more out of life. You imagined yourself happy, lively and fulfilled… what happened? The thought may bring you to tears. Let them flow.
With so much hurt in our heart, anger offers a bit of relief, casting responsibility on something or someone else. This is too heavy to carry alone. We draw energy through blame yet the black hole is never satiated.
Only light can drive out the darkness in your heart. True relief from the pain comes from LOVE.
Loving yourself today, no matter what paths you have traveled.
Loving the journey, bringing you to where you need to be all the time.
Loving those around you, as gifts and lessons on this adventure.
It is easier said than done. I hear you. You cannot forgive and forget because the black hole in your heart, the PAIN, it's all very REAL. Anger has been a suitable release for some time, offering temporary relief as needed, yet you know it is limited, restrictive and unhealthy. It's time to heal. It's time to fill the void with light. It isn't an easy feat… but it can be done… with LOVE.
I am still on this journey today, I have learned a lot from it and I have come a long way. The adventure of digging deep within to uncover hidden pain is the road less traveled; it is a very challenging path at times, but it is also highly rewarding. Today, I have moved past the need to forgive and forget into the peaceful zone of a love-filled heart, I am leading my children onto a similar path as they learn through my experiences, and almost magically, this journey of happiness has fully aligned me with my purpose, to inspire you to LOVE too. I hope you will accept my invitation.
I have published a book on the topic of not being able to forgive..
You can purchase the Kindle edition of the book on Amazon at www.thenewhappyme.com/iwillnotforgive.
For more on TheNewHappyMe journey, visit www.thenewhappyme.com.
GUEST BLOG POST FROM: Michele Penn, Peace in the Present Moment
The Power of Flowers and Floral Art Photography
Flowers evoke a universal feeling in all of us – a feeling of beauty, peace, joy and even sensuality.  In addition, flowers also bring energy, grace and a sense of innocence.  All of this from flowers?  Yes, amazing isn't it?  They provide us with a spiritual connection to the divine and to the beautiful gift inside ourselves. I am privileged to be able to express these feelings in my floral art photography.
When I began photographing flowers, a whole new universe opened up to me – a universe of freedom, stillness, striking beauty and surprising sensuality.  As I capture the astounding beauty of the innermost detail of the flower, I am inspired by something bigger than myself.  I feel a connection to everyone and everything.  I am in touch with the flowers essence so deeply that I feel God. These "soul shots," as I call them, remind YOU to be present.  Just walking past one of these flowers puts you in awe of nature's beauty. I cannot help but capture this beauty in my passion for floral art photography.
I now live every day with purpose, gratefulness, forgiveness, love, and compassion.  I wasn't always like this.  I was in a verbally abusive marriage for 14 years and couldn't stand up for myself. I thought because I didn't have bruises that it wasn't that bad.  But, as everyone who has been where I've been knows, it can be just as painful and hard to recover from.  It continued to get worse and eventually in an emotionally violent rage, he threatened to kill me.  I finally left him and instead of losing my life, the incident inspired me to find it.  For years afterwards, I lived with depression, guilt, anger, unforgiveness and blame.
Flowers found ME. It seems as if all of a sudden flowers just began to appear as if they were never there before.  Where did they come from?  What were they telling me?  Why was I so intensely drawn to them?  I had a deep desire to photograph this delicate, beautiful flower and share it with the world.  Flowers were begging to be photographed with their rich textures, graceful elegance, soft geometric shapes and sharp, crisp lines.  Yet, it was the feeling that drew me even closer.  I felt connected to the soul of the flower.  I want to tempt the viewer to look into the soul of the flower too and to actually sigh in deep peace. I needed to express this in floral art photography to capture this connection.
How Eckhart Tolle Changed My Life
Eckhart Tolle's book, A New Earth, changed my life.  The first chapter is called "The Flowering of Human Consciousness."  In this chapter, Eckhart Tolle explained to me why I was drawn to flowers.  It was as if he was in my head and knew what I was feeling.  That wonderful peaceful feeling I had, where all the chatter in my head stopped for a moment was new to me.  Nature is not worried about the past, it does not get depressed or feel anger.  Nature lives in the present moment and it exhibits enormous patience.  Nature accepts what is.  You cannot rush a flower to grow or make it open its petals before it's time.  You must be patient.  If you allow it to bloom in its own time, then, and only then will you see the true beauty.
 

You cannot find yourself by going into the past. You can find yourself by coming into the present.

(Eckhart Tolle)
Your peace is in the present moment.  Allow flowers to bring you into presence.
Eckhart Tolle also says that
Even a stone, and more easily a FLOWER or a bird, could show you the way back to God, to the Source, to yourself. When you look at it or hold it & let it be without imposing a word of mental label on it, a sense of awe, of wonder, arises within you.  Its essence silently communicates itself to you and reflects your own essence back to you.
This is what happened to me.  Flowers brought me to my source.  A sense of awe and wonder DID arise in me.  My passion is capturing that moment of beauty in a flower and sharing it with the world.  My passion is fueled by the feedback I get from helping people everywhere to open their hearts and souls to the beauty of nature, so they are able to look within. My passion is more than floral art photography; it is about getting closer to the exquisite beauty and peace that is nature.
What Flowers Brought Into My Life
I am the floral photographer and creator of New York Times Best-selling authors, Eckhart Tolle and Byron Katie's book, Peace in the Present Moment, also a best-selling contributing author, award-winning photographer and inspirational speaker.  If I could inspire Eckhart Tolle and Byron Katie to do a book with me, then imagine what you could do.  Just like the title of our book, Peace in the Present Moment, Eckhart taught me to be still. He taught me to trust that inner voice and to not listen to anything outside of myself.
Eckhart says
Be at least as interested in what goes on inside you as what happens outside.  If you get the inside right, the outside will fall into place.
What Can Flowers Do For You?
I want to fill homes with peace, elegance and presence.  I would like to bring that sense of calm to workplaces where there is so much stress. Hotels, hospitals, spas, waiting rooms, professional work places are ideal places to hang my floral art photography.  Bring a calm, peaceful, loving feeling to your environment.  Make visitors, colleagues and clients feel at peace.
Studies show that that by viewing flowers you can reduce stress.  Reduce stress and experience serenity as you connect to the soul of the flower, the essence of who you are. Just looking at my "soul shots" will make you FEEL good.  What will flowers inspire YOU to do?  Expect to be awakened and connect to your spirit as I was.
My floral art photography reminds YOU to believe in yourself and become more conscious. YOU will feel and experience the present moment where peace and inspiration dwell. YOU can become more authentically who YOU are. YOU can become more of what YOU need and want.
I suspect that flowers will give you chills as they do for me.  You will connect to that place inside yourself that you may be too busy to notice.  Join me in the place where I receive all my guidance and inspiration.
Live the life you always imagined.  Anything is possible.  We can survive, conquer our fears and move on to help others heal.  I hope I inspire YOU.
For more information about Michele, see the links below.
To connect with Michele
https://www.facebook.com/peaceinthepresentmoment
To see Michele's Limited Edition Floral Art and Fall Collection
http://peaceinthepresentmoment.net/create-a-beautiful-environment
To learn more about Michele's story and present moment awareness
http://peaceinthepresentmoment.net/abused-to-awakened/
This Made Me Think
Welcome to a new series of articles by interesting people I have met, read or studied with! Every now and then I come across something I believe will make a difference in both my life and the lives of my readers. So, I decided to share some of these interesting articles, videos, thoughts and inspirations.
I hope you find them thought provoking- read and enjoy!
This is an article reprinted with kind permission from Steven Aitchison- http://www.stevenaitchison.co.uk/blog/6-great-questions-to-find-your-purpose-in-life/
I believe that much of what prevents us from being happy is that we do not feel a sense of purpose- we feel lost and undervalued. This post gives you some important questions to ask yourself about your purpose in life. I hope this helps to get you thinking about your life and maybe whether you feel the need to change? Enjoy Steven's article and please post your comments below- what do you believe is YOUR purpose in life?
Have you ever asked yourself
'Why the hell am I here, what is my purpose in life'?
I believe there are two reasons we were put on this amazing place we call 'Earth'
To find out what our purpose is

To start living our purpose and do what we were born to do
You are here to make a difference in the world, to leave your mark, to say 'I made a difference' when you are lying in your bed waiting in the crossover lounge, you were born for a reason, and the first part of the puzzle is to find out why you were born.  Some people go to their graves never knowing the reason, but you have an amazing chance to do just that.
For hundreds of years we were not taught to think for ourselves, we were taught to obey and didn't even thought about our purpose, it didn't even occur to us to ask the question.  But, we are free thinkers now, we can dream, we can create our own reality and truly find out the reason we were born.
Here are six questions you can ask yourself if you want to find out your purpose
What makes you forget the world around you?
When I am writing, creating images, creating websites or helping others to do better online, I lose track of all time.  I am in the zone and time and space just doesn't seem to exist.  One minute it is 8am and the next minute it is 1pm.  I lose track of everything and even forget to eat.  There have been many times, Sharon has come home from work and asked what I had for lunch and I suddenly remember that i have forgotten to eat lunch.
Do you have something that you do that makes you forget everything around?
How can you get outside your comfort zone?
You will never grow as a person if you don't start getting outside your comfort zone.  Your comfort zone is a place of safety, a place where you feel, well, comfortable.  But you will never grow within your comfort zone.
If there's something you fantasize about, something you've always dreamed of and wished you could go for it, but your reasons are you don't know how to, or you are worried what others may think, then you need to stop for a second and tell yourself if you don't do it now, then you may as well forget about it.
How are you going to save this topsy turvy world we live in?
There are a hundred and one things that need saving in this world.  Pick one and start implementing your plan to save it, anything to get you going: he health system, the education system, the local community hall, the local church, abused animals, anything at all.  Your purpose may be to save the world, one cause at a time.
What would you do with your time if you weren't allowed in your house from 8am – 7pm, didn't have to work, and your children were being taken care of?
Bit of a strange question this, but can you imagine what you would do if you didn't have to work and you weren't allowed in your home.  What would you do with all the extra time you had?
You see, we get really comfortable lying around the house or busying ourselves with unimportant tasks, and it's only when we stop for a few seconds and realize that the time we spent doing something unimportant could have been spent figuring out something more worthwhile to do.
What is your dream?
Many of us forget about pursuing our dreams as they seem fanciful and will never come to fruition.  The more you keep thinking about a dream you have the more your subconscious mind will start working out ways to make it happen, instead of dismissing your dream as 'just a dream.'
How can I make it happen?
The better questions we ask ourselves the better the answers will be, see 34 Thought Provoking Questions.  Your subconscious mind again will start working out ways to answer your question.
So, if you constantly ask 'Why do I never get what I want in life?' Your subconscious mind will go to work to help you find the answer and it will always be negative.  Whereas if you constantly ask yourself 'How can I make this possible?' your subconscious mind will get to work and start looking for ways to get you what you want.
Let us know what your purpose is in life, if you have already found it.  If not tell us what you're going to do about it.


About Steven Aitchison
I am the creator of Change Your Thoughts (CYT) blog and love writing and speaking about personal development, it truly is my passion.
There are over 500 articles on my site from myself and some great guest posters.
If you want to learn more about my products you can check out
http://www.stevenaitchison.co.uk/blog/products-page/
Find my affirmations here http://www.99positiveaffirmations.com/
Steven was a guest on my radio show- http://www.blogtalkradio.com/yourhappinessway/2014/10/16/do-affirmations-really-work-steven-aitchison
Finding your purpose in life is one step closer to being happy. So, ask yourself the questions suggested by Steven and leave a comment below- tell us what is your purpose in life and are you following that path?
Simple Happiness Teachings
10 Steps to Beat Procrastination & Feel Good About yourself
Everyone procrastinates to one degree or another but you can beat procrastination…
What you may not realize is that as outstanding tasks mount, you can become resigned, depressed and inactive, BUT it doesn't have to be this way.  Use these 10 easy steps and finally get relief from procrastination.
 1. What are you afraid of?
Believe it or not procrastination is almost always based on some kind of fear.
Start by asking yourself the following questions
What could I be afraid of?
Am I afraid I'm just not good enough?
What would success in this endeavor mean to me?
Am I afraid that succeeding will just cause me more work to do, or more to live up to?
Make the fear conscious
By becoming conscious of the fear it no longer has the power to control you. Once you take a closer look you can decide if it's based on reality or imagination.  In either case you now have the power to deal directly with the fear itself. You can beat the fear and therefore beat procrastination with information and awareness.
Deepak Chopra says:
"Awareness isn't passive. It leads directly to action".
 2. Determine what your excuses sound like and write them down.
 Example
"I'm too busy"
"I'm too broke"
"I'm too tired"
"I'm too sick"
"I'm too inexperienced"
"I'm too old"
"I'm too young"
"I'm too scared"
It's very important to be aware of the words you use after the powerful "I AM".  Wayne Dyer has written an entire book on how to consciously use the words "I AM" to powerhouse your manifestations. http://www.drwaynedyer.com/blog/the-power-of-i-am.  The king of affirmations, R. J. Banks has devoted his life to empowering others with his "I AM" audio programs. http://www.loaaffirmations.com  It's to your benefit to really understand how important it is to be conscious of the words you put after the "I AM", because of the creative power of the words themselves.
The simple act of unearthing and seeing on paper the words you've been saying to yourself can be enough to change your thinking.  Shining the light of consciousness on your thought process makes it clear why and how you've been manifesting or creating your life thus far and can help you take responsibility.  Now you have the power to re think those disempowering thoughts and change them. Now you have the power to beat procrastination.
 3. Write a list of everything you're procrastinating about
 Example:
Cleaning out my closet
Preparing that report
Sending a thank you note to Aunt Betsey
Getting the car washed
Getting your to do list out of your mind and onto paper takes a heavy weight off your shoulders.  This simple act is a proactive move toward getting something done and enough to begin feeling better about yourself. It's now on paper and not simply rolling around in your mind and energy field and that takes some of the pressure off and helps to beat procrastination.
 4. Prioritize your list starting with the most time sensitive.
Example:
Get my tax information to the accountant – A1 priority
Send mom her birthday card- A1 priority
Fix the roof- A1 priority
Clear out the garage – B2 priority
 5. Use your imagination to beat procrastination
This is a sneaky way to get yourself to use the extremely motivating force of fear to beat procrastination and it's VERY effective.
Pick the first thing on your to do list and spend a few minutes imagining how you'll feel next month if you still haven't completed this task. Now project the picture and the feeling into a year from now, and then 5 years from now. Imagine what the effects of that look like. Will your health or well-being be compromised? How will it affect other people in your life and your future in general?  Expand on that with color, sound and feeling.  You can learn this technique of visualizing the outcome of your procrastination quite simply. Check out my Happiness Teachings post, Creative Visualization – A guide and sign up for my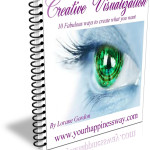 Visualization E book to get you started.
6.  Visualize success to beat procrastination
Take one thing from your to do's and make a list of the benefits of completing the task.  Even a tiny benefit feels better than the undone task does.
Example
"I'll be saving money because I won't be writing a check to the government as a penalty for a late tax payment."
Close your eyes, breathe deeply into your belly and take a journey into your imagination.  First try and see yourself standing proudly knowing you've completed the task.  Notice how that feels both physically and emotionally. (Refer to my visualization book or guide) For example do you feel lighter, proud, freer, accomplished, confident, relieved?  Just find the feeling and enjoy it as if the task has been completed.
Beat procrastination at home!
Now, see what the completed task looks like. If it's a clean kitchen see your kitchen sparkling, dishes put away, stove top clean as a whistle, everything bright, shiny and spotless.  Do the same thing for any type of housekeeping. You can even bring in the smell of something fresh like lemon or pine to add to your visualization.
Beat procrastination at work!
If it's completing a task at your job or work try seeing yourself handing the finished report to your boss, or putting it up on the web, or publishing it out as your blog.  Adding feeling to this is very important.  The more you practice this the more you can add the feeling of accomplishment you'll have when you cross the last T on that report.  You'll experience feeling lighter and freer as you see that clean desk instead of a stack papers, or opening your desk drawer and seeing neat, organized supplies and paperwork.
Beat procrastination over your health!
If it's starting that exercise program first see yourself at the end point. You're physically fit and feeling good.  Imagine how that feels and how you look in new form fitting clothes, or how your blood pressure and cholesterol levels have gone into the healthy range. Notice the look on your doctor's face as he reads your results and compliments you on your new found health.  Imagine how that feels.
 7.  Break the items on your to do list into small manageable size chunks
Now that you've gotten the feeling of the task being done make a list of bite size chunks that will get you to the end point.  For example if it's starting an exercise program, don't write down, run three miles a day and do weight training 5 days a week.  Write something like, walk/run three blocks away from my starting point and three blocks back.  Every week I'll add another block, run a little more and walk a little less until I build up to the three miles.  When I get home I will do some light stretching and work with my hand held weights for 10 minutes.  Each week I will add heaver weights and another 5 minutes to my routine until I'm at 30 minutes 3 times a week.
For home organization, instead of, tomorrow I'm going to clean out my entire closet, change that to, tomorrow I will go through my shoes and donate those that I'm no longer wearing. Then the following day or week I'll go through my shirts and do the same thing, etc until the closet has been entirely gone through and reorganized.
 8. Do the first manageable size chunk.
Go ahead. Look at the bite size chunk you've just determined and DO IT.  Don't think about it. Just do it.  If you're once again procrastinating about doing the one tiny thing go back to your visualization. This time see yourself having finished this one bite size chunk.  See it, feel it, smell it.  (Refer to my visualization book or read my Creative Visualization Guide)
9. Feel your success
Spend some time feeling good about what you've just accomplished no matter how small you may think it is.  Appreciate yourself for getting the first step done.  Stand in front of the mirror and congratulate yourself. Yes, I know you'll feel silly and that's good. Laugh and make it fun.  Reach around and actually pat yourself on the back.  Call a supportive friend and tell them how good you feel having accomplished that small step.   It's very important to reward yourself with each small success because feeling good about yourself gives you the confidence and the energy to be more proactive and finally beat procrastination.
 10. Observe your thoughts and words
You have the power to motivate yourself or cause yourself to feel so disheartened it can paralyze you. You're either your own best friend or most feared enemy and it's most important to observe your words, thoughts and beliefs in order to delete the disempowering ones and enhance the positive. Read, The Inner Observer
Here's a picture and quote from one of my favorite philosophers.
Follow my ten steps and you CAN beat procrastination!
Lorane Gordon

Creative Visualization – 10 Fabulous ways to create what you want!
1.  Anyone can do it
Many people are under the impression that creative visualization takes a lot of skill and is reserved for athletes that have been trained to visualize by their coaches, or just those who are naturally visual. Those people are good at visualizing but that certainly doesn't mean that you can't learn to visualize.  It just takes the desire to learn and then practicing it just like you'd practice anything at which you want to become proficient.
 2. You're already doing it
How many times have you imagined a scene from a movie or from an earlier time in your own life?  Have you ever recollected a scene from a play, or remembered what a photo looked like?  Have you drawn something from memory or even tried to do your make up the way you saw a professional do it?  Well, all of that takes creative visualization. If you've done any of that, and I'm sure you have, then you're already visualizing.
3. You have a built in screen in your mind
You can close your eyes and imagine the inside of your forehead as a blank screen.  It's the natural placement of your eyes and actually quite comfortable.  Just close your eyes and imagine the inside of your forehead is a blank screen.  Then you learn to project a picture onto the screen.
4. Creative visualization is a powerful tool for manifestation
It's long been said that the key to bringing something into your life is to see it first in your minds eye. First as imagined, then you begin to feel it and to believe it. Visualizing is a powerful tool to bring what you're visualizing into your real life.
5.Your brain doesn't know the difference
Science has discovered that the brain doesn't really know the difference between visualizing doing something and actually doing it.  It's been used as a training tool with athletes for decades now to improve their performance. It was found to be especially useful after an injury when an athlete couldn't use their body, so instead, intensely used visualization techniques to keep and even improve their performance.  Creative visualization literally creates a training schedule in the mind. It's been tested and it works!
6.The more detail you add to the picture the better
The brain accepts the picture you're having as the real thing when you put rich details into your visualization.  Have fun with it and while you're picturing something just fill it in with colorful details. Being creative is an integral part of creative visualization techniques. Simply ask yourself what types of things you would see or notice in real life.  Then attempt to add them to your picture.
7. You can imagine sounds along with your visualization
Do you remember the sound of your alarm clock for example? I'll bet you do, or the sound of the school bell when you were a child.  How about your mom insisting you get up for school when you just wanted to sleep for ten more minutes.  That's what I mean, just add the memory of sound to the picture. Sound adds reality to your creative visualization.
8. You can imagine smells
Do you remember the smell of freshly baked cookies, or even burning toast?   You just close your eyes with the intent of remembering. The idea is to fill in the picture using all of your senses. When you engage all your senses in your creative visualization it becomes a complete picture.
9. You can bring anyone you want into the picture with you.
Close your eyes for a moment and remember back to sitting around the table with your family on a holiday, or even a Sunday night dinner. Notice how you can remember where everyone sat, or even the jokes they might have shared with one another?  Notice the first one to dig into and hog the mashed potatoes?  Yep, that's what I mean. It's that simple when you allow it to be.
10.You can step into your visualization
Now as you're seeing that family dinner or occasion notice where you were sitting.  Who was on either side of you and what you may have been viewing from your vantage point.  OK, now take a deep breath and simply imagine for a moment that you can step into that scene as you were at that time.  Just take it very easy, have fun with it and soon enough you may even taste those mashed potatoes.
For a more detailed teaching and explanation of Visualization Your Key to Happiness

be sure to download my free 30 page book that clearly walks you through the process so you can become proficient at this creative visualization tool for manifesting your desires.  It ties right in with the Law of Attraction and you can get it by subscribing in the box below.

Click here and receive my free 5 minute guided meditation for peace and clarity. MP3 immediate download.
Finding happiness isn't really all that complicated, it's actually easier than feeling miserable.
All the great wisdom teachings have said, in one way or another, it's not as much what you have, it's how you think about what you have.  We have all heard stories about the handsome, wildly successful man with a beautiful family, yet he's utterly miserable.  How about those beautiful women that are on the covers of magazines, stars, starlets and models, yet we get news of their drug dependency, failed relationships and alcoholism.  Did you ever wonder why with all their beauty, money and worldly success would they be that unhappy?
"Folks are usually about as happy as they make their minds up to be" ― Abraham Lincoln
You see, it really doesn't matter how much you have, how society views you, or how beautiful you are.  What matters is the way you feel about yourself and how you view your life.  Of course this is assuming your basic needs of food, clothing and shelter are met.
We've all picked up habits and ways to live our life.  We've developed thought patterns we've learned from our parents and care givers that have formed our self talk.  Sadly if we've had parents that criticized us and made us feel badly about ourselves, often our own self-talk takes over where their's left off.  When we learn to listen to our self talk we can change this.
Happiness is all about the way you view things and how you treat yourself.  You can choose to look at what you don't have and be miserable about it, or you can choose to look at what you do have and appreciate it.  Every situation, every moment of your life allows you that choice, but YOU have to choose.  Your happiness is your responsibility now that you're an adult.

Tools you can use to be happy
The first thing you absolutely need, is to recognize what your thinking and feeling while you're thinking and feeling it.  We can go through our whole lives never actually noticing the thoughts that are making us miserable.  You can learn to hear or notice the thoughts that are going through your mind.  This is called the Inner Observer. http://loranegordon.com/yourhappinessway/inner-observer/
Getting in touch with your body and the clues it gives you is very important.  Your body can let you know something's up and it's time to pay attention to whatever it is even before your mind can.  This is something you can learn to notice.
Be wherever you are while you are there.  Sound silly?  It's not. Think of all the times when you were doing something yet thinking about something else.  Think of all the times when you were somewhere, yet you were wanting to be somewhere else.  You cannot appreciate this moment if you're not experiencing it. http://loranegordon.com/yourhappinessway/living-in-the-moment/
Notice when judging something as bad.  As soon as we go into judgment about a person, a situation or an event we are less than happy.  Judging a person separates you from them and love cannot get in or out.  Judging a situation makes one good and the other not as good creating unhappiness.
Accept everything for exactly what it is.  Things are as they are.  Accept them and move on. Bemoaning a situation does nothing to change it. As a matter of fact it only keeps you stuck in what you don't like.
These things may take a little time to incorporate into your life, but I urge you to remember one thing.  Happiness is up to you, it's your responsibility and you can be happy.
Being happy doesn't have to be complicated.  As Charles M. Schultz said "Happiness is a warm puppy." 
Lorane Gordon
Happiness First Radio Show
Happiness First Radio
Lorane gives you the keys to create the life you've dreamed of! You'll learn to manifest with her proven inspirational coaching and teachings to create a more fulfilling life utilizing present moment awareness,
manifestation ann the Law of Attraction techniques.
Lorane always does a Guided Meditation for you to enhance your learning.
Listen Now
Be Coached By Lorane
"I have taught thousands of people to live their life with happiness, health, love, inner peace and wealth. After experiencing a devastating life changing event, I had to learn a new way, an even better way. My life depended on it. I am now bringing you Your Happiness Way. It works. It's worked for me and my private coaching clients and it will work for you." -

Lorane Gordon
Coaching With Lorane
Best Selling Author- Lorane Recommends